Gasunie hydrogen pipeline between Dow and Yara operational
27/11/2018
Hydrogen transport between Dow Benelux and Yara has commenced
First Gasunie transport pipeline has been made suitable for hydrogen transport
Decrease in energy consumption: 0.15 PJ per year; approximately the annual gas consumption of 3,000 households. 10,000 tonnes of CO2 saved
Gasunie's hydrogen pipeline linking up Dow Benelux and Yara has been commissioned. This is the first time ever that an existing main gas transport pipeline has been made suitable for the transport of hydrogen. The gas transport pipeline, which was no longer in service, will now be used to transport hydrogen for industrial purposes. Underground transport through the gas network is an efficient, safe way of transporting hydrogen.
Agreements on the 12-kilometre hydrogen pipeline were signed in March 2018 by Dow, Yara, ICL-IP and Gasunie Waterstof Services, and the pipeline is now operational. Connection points were installed at Dow and Yara last summer, a few sections of the gas transport pipeline were modified to enable hydrogen transport and the pipeline was then filled with hydrogen. It will now be used commercially to transport over 4 kilotonnes of hydrogen every year. Hydrogen is also set to be transported to ICL-IP at a later date.
"Promoting a circular economy by linking up raw material supply chains is one of Dow's spearheads," explains Anton van Beek, Dow's Area President for the Benelux, UK and Nordic. "This special project, run under the auspices of the Smart Delta Resources platform, proves that a cross-sector partnership in the region can help make society more sustainable."
"This project is a great example of collaboration between regional industry and companies, and it constitutes a further step in the energy transition," says Michael Schlaug, Yara Sluikil's Managing Director/Plant Manager.
"This hydrogen pipeline marks a key point in our history," adds Gasunie CEO Han Fennema. "It is the first time that an existing gas transport pipeline has been made suitable for transporting a gas other than natural gas. Gas infrastructure plays a connecting, facilitatory role in the energy transition. In the future, we will increasingly transport different energy carriers, such as hydrogen and green gas, through our pipelines. As an independent network operator, we can link up hydrogen from various providers and transport it to the major industrial clusters in the Netherlands. This network's capacity can increase to 10 gigawatts or more by 2030."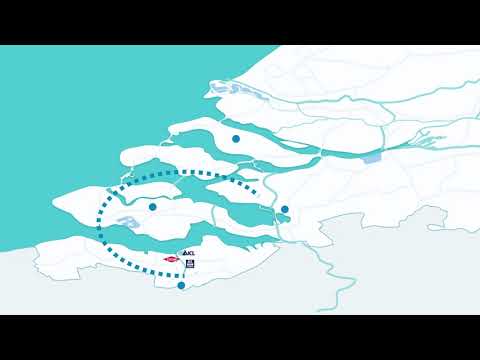 Decrease in energy consumption and CO2 savings
Hydrogen gas produced by Dow's cracking plants flows through the hydrogen pipeline in Zeeland to be used as a raw material at Yara in the manufacture of high-quality products. A connection point has also been installed at ICL-IP so that they can purchase hydrogen from the pipeline in the future too. Hydrogen transport through the pipeline initially cuts energy consumption by 0.15 petajoules (PJ) per year, which roughly equates to the annual gas consumption of around 3,000 households. It also immediately reduces carbon emissions by 10,000 tonnes, with room for further cuts later.
Green Deal on Hydrogen for the region
The collaboration is part of the Smart Delta Resources platform's industrial sustainable growth partnership, which is facilitated by the Zeeland development company Impuls, the North Sea Port company and the provinces of Zeeland and East Flanders, in the Netherlands and Belgium respectively. The parties to the collaboration signed the Green Deal on Hydrogen for the region in 2016, and the commissioning of this pipeline is the first result.
Symposium
The pipeline will be officially commissioned next year during a mini-symposium. The press will be invited and further details will be given at a later date.
This project was made possible by support from:
More news